A pocket-size compact body with a large-diameter lens equipped with high-brightness LED. You can switch between polarized and non-polarized with one touch. You can more easily perform magnified observation of the lesion.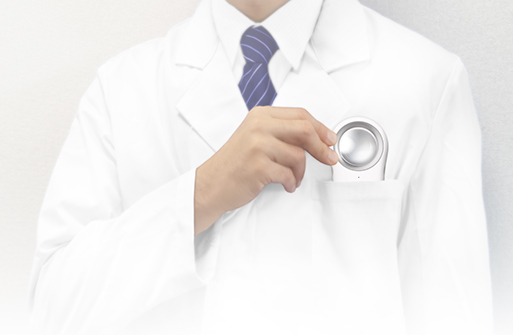 Basic information
Detailed function
Large-diameter lens that allows you to see the details clearly
Features a large diameter 40.5mm (1.6") lens with a wide field of vision and low distortion. Since it is easy to focus, users can observe lesions without putting their face right next to the affected area or making fine position adjustments. The lens magnification is 6x.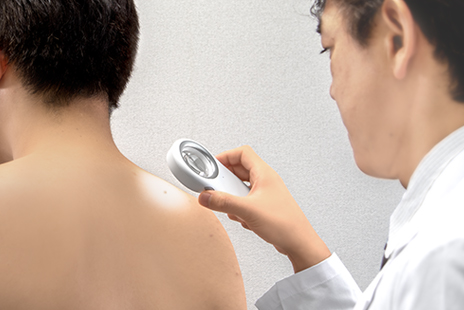 Easy-to-use shape and design
The grip fits comfortably in the hand, and power and polarization switching buttons are located where the user's fingers are positioned when holding it. It is lightweight, at approximately 125g (4.4oz). The symmetrical shape can be used with either the left or right hand.

Power down by itself / Auto power off
Power supply turns off automatically approximately 3 minutes after being turned on. This prevents the device being left unattended and reduces concerns about suddenly running out of battery power.
Bright and easy to see, high luminance LED light
The LED light has an illumination intensity of 30,000 lux, allowing users to see lesions clearly in sharp detail and assisting accurate observation of color. It is energy efficient, allowing about 120 minutes of continuous use on a single charge. This reduces concern about keeping patients waiting during recharge.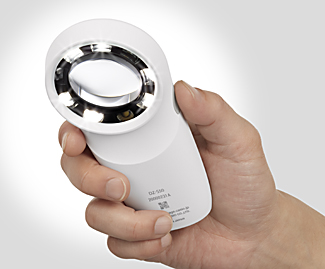 Polarized, non-polarized mode switching with one touch
The LED light can be charged from polarized to non-polarized mode with a single switch. Polarized mode works best for observing pigment distribution beneath the skin's surface, while non-polarized mode is good for observing the condition of the skin's surface.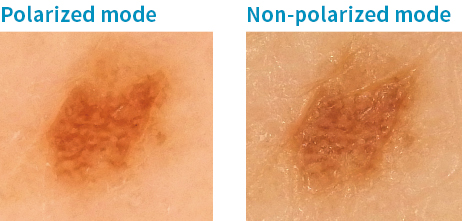 Optional accessory
Conversion lens
DSL-50M
An easy-to-fit conventional lens is available and can increase lens magnification from 6x to 9x. This is useful for observing minute lesions such as scabbles.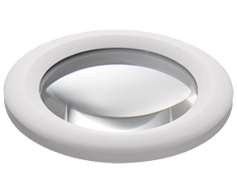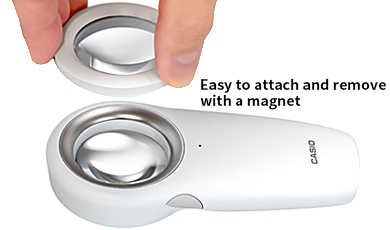 Main specifications
| | |
| --- | --- |
| Model | DZ-S50 |
| Price | |
| Lens magnification | 6x/9x (with optional conversion lens attached) |
| Focal distance | f=50mm / f=31.25㎜ (with conversion lens attached) |
| Maximum effective diameter | 40.5mm (1.6") |
| No. of LED lights | Polarized (6), non-polarized (3) |
| Power supply | Lithium ion battery (built-in) |
| Power life | Approx. 120 minutes (LED lights lit continuously) |
| Size | 67.5 x 140.2 x 23.1mm (2.7" x 5.5" x 0.9") (W x H x D) |
| Weight | Approx. 125g (4.4oz), approx. 145g (5.1oz) (with optional conversion lens attached) |
| Bundled Accessories | AC adapter for charging (AD-M50500A), User's Guide (with warranty card), Insertion document |
Operation explanation (Video)