Overview
SOLD OUT
10-line operator back lit LCD
Bluetooth* Ver 4.1 (low energy compatible)
Small metal size cash drawer
Casio's PCR-T540 is the new generation of cash registers combining current technology with the required functionality retailers expect from a cash register. The PCR-T540 comes standard with Bluetooth (BLE Ver 4.1) communications for the purpose of linking up to smartphones running Casio's Connect ECR+ free application. The Connect ECR + app provides retailers the ability to read and reset sales totals from the PCR-T540. The main dashboard on the Connect ECR + app provides a quick snap shot of the day's sales activity and provides the sale results in graphical format. Viewing detailed individual reports (Financial, Transaction, Department, PLU, Cashier, Groups and Hourly) are also available to retailers to analyze the store's performance. Connect ECR+ also offers the ability to transfer the daily sales activity to the cloud for the purpose of providing historical data to be viewed at anytime and anywhere with smartphone coverage. In addition to the sales activity features being available on the Casio smartphone app, programming the machine through Connect ECR + is also possible through easy to understand screens.
BLE Apps will available only for Android OS(iOS version will come by end of Jan.2019)
A SD Card slot is standard on the machine allowing owners a sense of security of backing up programming information and if need be re-loading programming. The machine also provides the ability of sales reports being saved automatically when the daily close operation is performed to the SD Card in CSV format.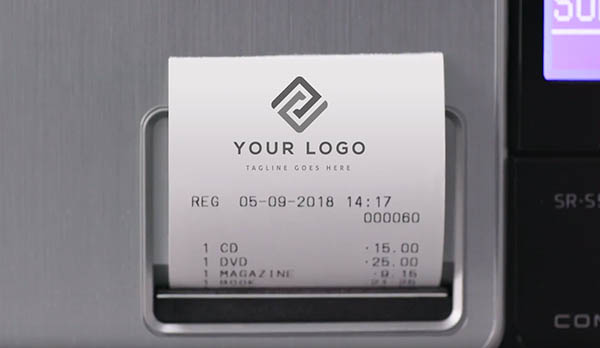 (*Customer receipts can be customized with a graphic logo or programmable top and bottom messages.)
The PCR-T540 is not only technically advanced but also offers a sleek, stylish design that will fit nicely in all types of business venues. The 25 standard department keys provide owners a multiple ways to track various product categories and 3,000 PLU's to individually record sales activity of specific items. The PCR-T540 offers other analytical tools that include cashier/operator sales tracking, hourly sales, transaction key and electronic journal reporting. The PCR-T540 comes with a long list of functionality that surpasses most entry level cash registers.
The PCR-T540 comes with a single station fast and reliable thermal printer that can be used for receipts or journal tracking. Receipts can be personalized with the store's information, greetings and special messages. The 10-line operator LCD display with the high definition Blue display makes data input easy to check a customer transaction. The pop-up 2-line customer display provide vital information to customers as to the prices and items being entered. A small heavy duty metal cash drawer is standard with the machine.